Note : FA GUO SAN @ FARLIM PENANG has closed.
Aiks! Penang is part of the route for "Journey to the West"? Why is there a Fa Guo San (花果山) located in the vicinity of Farlim, Penang? Well, I saw "Monkey God" at the signboard! Haha! Fa Guo San (花果山) is actually the latest HK style dessert house in Penang, serving rather unique, colorful and great plating desserts.
We was served with a "flower pot" which I thought was for display but it was a dessert instead. The Passion Fruit Crumble Cheese Cup (百香果香脆起司杯: RM11.90+) had some sponge cake at the base, filled with passion fruit flavored cream cheese and topped with Chocolate Oreo crumbles. It had 2 green chrysanthemum flowers "planted" in. What a great concept!
Since we saw many tables ordering the Chocolate Fondue Honey Toast (巧克力火锅蜜糖土司: RM25.90+), we also tried out a set. We thought the whole toasted bread bowl was filled with green tea cream and cut fruits but inside were actually toasted buttered bread fingers. They were nice to be dipped inside the Chocolate Fondue. They were also some scoops of ice cream and banana cut with a mini jug of honey in the set.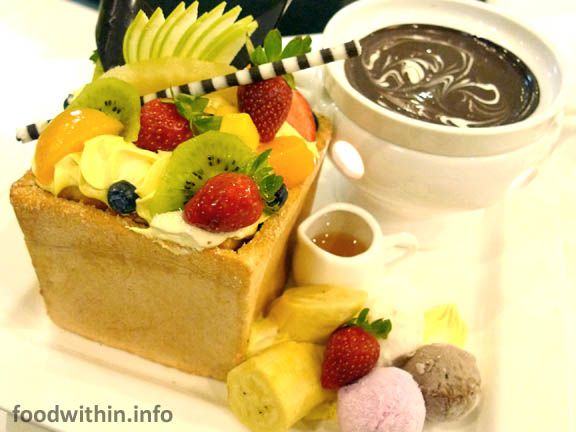 Venue: Fa Guo San (花果山) @ All Seasons Place
Address: No. 6H-1-06, All Seasons Place, Lebuh Raya Thean Teik, 11500 Air Itam, Penang, Malaysia.
Contact: 604-827 0494, 012-524 9885
Business Hour: 10.00am-12.00am daily
Tagged: Fa Guo San, Farlim, flower pot, fondue, fruits, 花果山